"I Can't Believe I was an Atheist"
Memoirs of John Apgar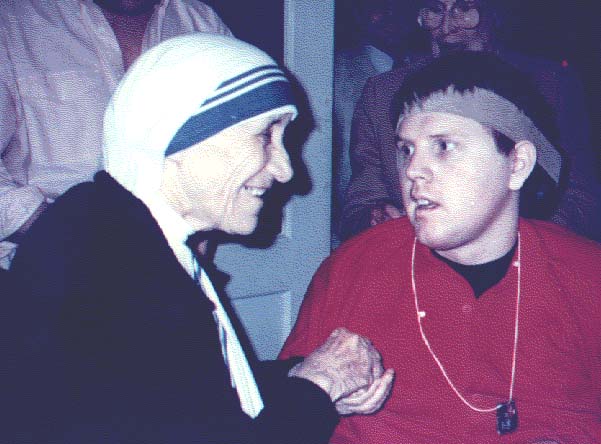 May 19th 1989 John meets Mother Teresa. When told that John wanted to be completely healed she asked us to pray the following prayer:
"Mary, Mother of Jesus, make Johnny all right."
John Apgar is a living miracle. When you read his story I am sure you will agree. God has given me the privilege to serve him every day during the last 13 years. Please read his story and please add him to your prayer list. I thank God every day that He has brought me into this precious life and has allowed me to serve him as I would Our Lord Jesus Christ.
On March 30, 1987 at 9:01 AM John Roger Apgar took a .45 caliber pistol and literally blew his brains out. The bullet blazed through an area just above the right ear and exited in a massive explosion through the upper left side of his skull. Gray Matter ended on the wall behind his desk at his Auto shop. Why would someone with everything to live for go to such an extreme? He should have died instantly. 99% of the cases of someone taking such a powerful weapon to their skull end in immediate death. Not so with Johnny. In spite of the odds he somehow survived until the paramedics arrived. He was filled with anger and pain when he pulled that trigger. He wanted to punish his estranged wife. In fact, he had called her and was complaining about their present separation. The problem was that he had refused to change. So Johnny lay in a pool of blood when the EMTs busted in the door. All the shop owners had come out to see what was happening. Kim, his wife had called 911 immediately after John had slammed down the phone. They were on their way when John pulled the trigger.
Kim had been a party girl. She partied with John right along even into their marriage but when she found out she was pregnant everything changed. She wanted her baby to be perfect and her maternal instinct kicked in. John had been into drugs, women and alcohol from the time he was a teenager. He had grown up with little if any traditional moral teachings. His parents had been well meaning providers who wanted the best for their sons. But their moral education was wanting. They were liberal and permissive believing, as many of their peers at the time, that their liberality would win their children's favor. The sad thing is their two boys grew up more pagan than Catholic. Bobby, his older brother, when he was 16 years old started smok'in pot but it was John, even though he was nearly two years younger that began to use "weed" before Bobby.
Bobby had been a high school athlete in Hackettstown, New Jersey. His junior and senior years were his glory days. He was as a football star and his exploits had been in print in the local papers. He had only had one long term relationship with a female and that was with Terri. They had been inseparable during his junior and senior years.
Even though Hackettstown is known for the Mars candy factory and many of its residents worked there Bob and John's dad worked for the phone company. Bob Sr. was hard working and a good provider for his family. He coached Bobby's and Johnny's baseball teams when they were young and rarely, if ever, missed one of Bobby's High School football games. Nevertheless, Bob Sr. worked hard and played hard. He had been in the Navy and was a drinker and a gambler. Interestingly he never spent the primary income on gambling but would work over time and side jobs for his gambling money. Kathy, Bobby and Johnny were never in material need. Bob could was generally a "good drunk" but there had been occasions when he had become mean. On one occasion he struck Kathy and sometimes would punish his boys when they had actually done nothing wrong. Yes the family was dysfunctional but then every family is to one degree or the other.